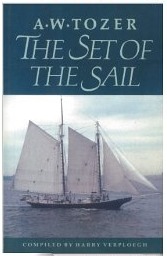 As a pastor, I preach on any given Sunday to an incredible range of people. How does one person study, prepare, and speak to such diversity? Consider the challenge that A.W. Tozer identifies in a collection of his writings called The Set of the Sail:
…the [preacher] is often forced to work at what would appear to be cross purposes with himself. For instance, he must encourage the timid and warn the self-confident; and these may at any given time be present in his congregation in almost equal numbers. His effort tot encourage those who need encouragement may actually confirm presumptuous souls in their carelessness. Conversely, his much needed warnings and reproofs may drive timorous and doubting Christians to the borders of despair.

Another problem he faces is the presence in the normal Christian assembly of believers in every stage of development, from the newly converted who knows almost nothing about the Christian life to the wise and experienced Christian who seems to know almost everything.

Again, the Christian minister must have a word from God for the teen-aged, the middle-aged and the very aged. He must speak to the scholar as well as to the ignorant; he must bring the living Word to the cultured man and woman and to the vulgarian who reads nothing but the sports page and the comic strip. He must speak to the sad and to the happy, to the tender-minded and to the tough-minded, to those eager to live and to some who secretly wish they could die. And he must do all this in one sermon and in a period of time not exceeding 45 minutes.

To add to the pastor's burden is the knowledge that in each service there will likely be a few lost sons [and daughters] who should come home, some who never loved God at all and "some how lost the love they had." So he must call sinners to repentance, warn the unruly, comfort the feebleminded, instruct, reprove, rebuke, encourage, console and exhort all at the same time, or at least on the same day.
Have you ever considered the immense challenge, calling and responsibility laid before a preacher? I am so deeply humbled by the privilege and joy of declaring God's Word to people week-in and week-out; however, there are times that the weight of it "in one sermon" and "on the same day" as I gaze out across a sea of faces becomes almost overwhelming.
It's on those days that I breathe a prayer that goes something like this, "Father… You love these people a lot more than I do. You desire them to know You, to enjoy their salvation, and to bring You glory more than I. So, will you step in, by Your Spirit, and speak through me to these precious people yet again?"
Tozer's article is titled Why We Must Depend on the Holy Spirit, and that is the only way one person at one time in one gathering to a diversity of needs and souls can attempt to proclaim one message. Dependence. It's God's work, not ours. Through a confidence in God's Word and His enabling Spirit, one preacher can see the One True God accomplish won-ders.
It is one of the wonders and delights of preaching that the same message will often affect people differently, producing in one repentance, in another hope, in still others courage, humility or faith, according as the particular soul has need. Without this mighty, skillful working of the Spirit, preaching would be futile; with it the ministry of the Word can be easy and delightful as well as marvelously effective.
On this day...
Jeff is the pastor of Northstar Church in Blacksburg, Virginia. He grew up in Arkansas, loves fantasy football and is an Apple fan boy. Follow him on Twitter or Instagram @journeyguy.
Latest posts by Jeff Noble (see all)