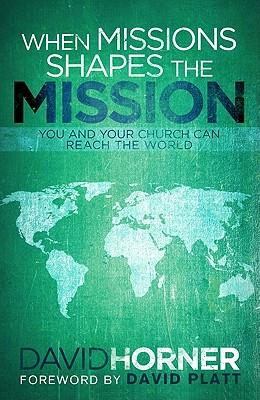 I received David Horner's book to preview, and I'm glad I got around to reading it. David is the pastor of Providence Baptist Church in Raleigh, NC. His book, When Missions Shapes the Mission, is a deeply challenging book addressed to pastors and leaders in the church, but any mature or growing Christian should digest its message.
Expect a full review of the book here on the blog when I conclude it, but for now, I wanted to share this passage with you from the chapter The Value of Missions Models from the Past:
When the motive for missions arises from a sense of guilt that we ought to do more to help people in need, that may suffice for a while as long as our compassion holds steady. When the motive is gratitude to do something for God as a way to "pay Him back" for His mercy on us, all we are demonstrating is that we do not really understand grace. When the motive is to impress others with the depth of our commitment to Christ, the superficiality of that needs no comment. When the motive is to produce humanitarian change through a better way of living, the success will only be temporal and not eternal.

The only impetus that will sustain a missions movement is an overwhelming love for Christ and a passion for His glory to be made known as widely as possible. Until He is our most valued treasure, as He was for Paul, His message will be no more than a logical explanation of how people can escape God's judgment, not an impassioned introduction to the infinitely radiant splendor of seeing, loving and knowing Jesus Christ.

Until Christ is our priceless treasure and His beauty fills our souls, all efforts to worship or serve or obey Him will be like half-filled cups trying hard to overflow. Obeying His commands to make disciples of all nations flows freely only when our love for Christ overflows fully. Therefore, sending churches must be savoring churches that adore Christ as most previous. As we learn to "taste and see that the Lord is good" (Psalm 34.8), the delight we find will lead us to savor and be satisfied with all that He is. The impact on missions, then, is substantial. People will not rally to action until they have learned how to rest in adoration. (p98-99)
On this day...
Latest posts by Jeff Noble
(see all)