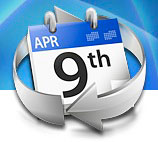 BusySync is a powerful application for the Mac that allows syncing your iCal calendars with Google calendars and back. You can change an event on iCal and voila! – it's instantly changed on Google. However, the best part about BusySync is that what you change on Google calendar is also changed on all your Macs running BusySync. It works both ways.
I first read about BusySync over on Richard's blog a few months ago, and I decided to give it a try for our church's calendar. We had been using Airset for our church's group calendar prior to this. Airset has some remarkably powerful features, namely reminders for your participants, but Airset's interface was clunky and left much to be desired. Some of our church's members never could quite get the hang of it. [Related article on Airset.]
Google's calendars are easy to use, add events and subscribe to. I needed a syncing program that allowed me to change something on Google and on my Mac and have them sync both ways. With most sync services, you have to choose a "primary" calendar to make changes on and then subscribe to it in your calendar program. The only thing wrong with that is that you can't make changes in your desktop calendar program to your subscribed calendars. On the other hand, if your desktop calendar software is your primary calendar, you can only publish it to Google without the ability for someone to make changes to the events or add to it there. Not good for group purposes.
Enter BusySync. It was extremely easy and intuitive to set up, and after using it for 30 days, I decided to purchase a license for it. Enter disappointment. The good folks at BusyMac wanted $25 per computer for the software! Aaaah. You've got to be kidding me! I emailed one of the guys at BusySync to ask them why in the world their price was set that way, and he sent me the following link in response:
I had asked him how BusyMac justified charging per computer for a piece of software that only did calendars, whereas the .Mac service was $99 per year but provided contact, calendar, email, web pages, and 10 gigs of web space. You can see how BusySync would add up – and it only does calendars.
Since that email, Apple has announced its overhaul of its .Mac service slated for next month. It will be called MobileMe. There's no word yet if it will provide syncing with Google calendar, although the latest update to Leopard offered easy syncing with your Google, Yahoo, and Exchange address books. However, for only $99 and new 20 gigs of web space, MobileMe may offer such an attractive lure that BusySync will have to decide how to remain in the same pond.
Overall review: 
BusySync is an excellent piece of software that does exactly what it says it will do. I have had no syncing issues with it at all. It is intuitive and easy to use. Unfortunately, its price is a little over-the-top for what it offers. If you're looking for calendar syncing software just for you, then it's a great choice. But if you need something for your church or office, it's just not cost effective, in my opinion.
On this day...
Latest posts by Jeff Noble
(see all)