Creating Community: Five Keys to Building a Small Group Culture is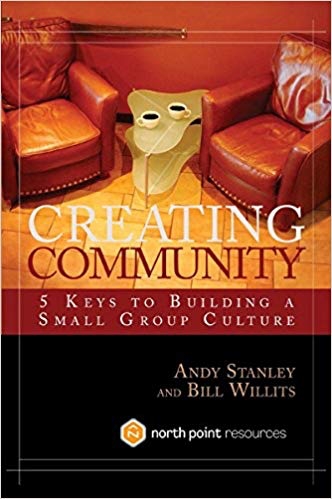 an intensely practical book for those who understand that smaller is better for life change and transformation in ministry.
Andy Stanley and Bill Willits are staffers at North Point Community Church in Atlanta. From the beginning, they desired that the church focus around life transformation by intentionally creating a small groups structure.
They ask three questions that help direct their focus. The questions, I think, are essential to keep one's ministry focused and help it stay in ministry mindset rather than degenerating to a maintenance mindset:
What do we want people to become?
What do we want people to do?
Where do we want people to go?
The answer to the first, he says is that people need to be a growing disciple of Jesus Christ. The second question is answered in three parts:
Disciples should pursue intimacy with God.
Disciples should pursue community with insiders.
Disciples should pursue influence with outsiders.
They also encourage a church to find their "word." What one word or idea summarizes your church or ministry? It's important to be known for something. Before you give the Sunday School answer, and say that you want your "word" to be "Jesus," consider that many people don't want to know Jesus at the outset. Northpoint picked the word "relational."
Northpoint is strategically focused around creating community. They give several reasons and advantages for small groups in their book:
Groups support their evangelistic strategy of "invest and invite." They say many irreligious people often want to belong before they believe and groups enable them to process the claims of Christ in a nonthreatening environment with friends.
Groups decentralize church leadership and care. Groups place pastoral care in the hands of laypeople instead of requiring a professional staff to service an entire congregation.
Groups enable more people to serve.
Groups help develop authentic community.
Groups offer maximum flexibility.
Groups allow a church to be better stewards. They make the point that small groups enable a church to focus resources on people rather than buildings. By not having to build to accommodate Sunday School or Christian education, money is freed up for ministry and trained personnel.
Groups remove the primary limits to growth.
One of the interesting findings about North Point in this book was that they have closed groups. That means that once they begin their life cycle (usually 18-24 months), they generally aren't looking for new people for their groups. Newcomers are assimilated into new groups rather than existing ones. That's a little different than how we're doing things at Journey, but it may be more of a necessity for us than a strategy.
Willets also says that they work hard to strategically move people from Point A to Point B spiritually. They use the visual analogy of foyer-living room-kitchen to communicate the progressive steps of community they try to lead people toward. Your foyer is for formal introductions and welcome. Your living room is an environment for visiting and entertaining; however, your kitchen is where intimate conversation and talk often takes place. In fact, it's around the table that many deep friendships are begun or cultivated.
Willets also says that training is essential for a small groups system, and they have poured the proper resources into this area. They put qualified, visionary personnel over their groups process as well as having small groups leaders go through an application process. He stresses that your small groups ministry must be "real." It must work in the real world. I can vouch for this, in that we've tried many things at Journey that sounded good in conversation but didn't work out in real life. Your system must fit people's lives.
As they train their leaders, they focus on six things. (Go read the book.) and continually train their leaders in these six areas. Stressing that less is more, they practice this in their training as well. It's not important to fill a leader's notebook with pages of guidelines but to realistically develop their leaders in essential areas.
Finally, they mention the importance of being a small groups ministry, rather than just saying you have a small groups ministry. They do this by financially investing in personnel, training, and childcare. I was very intrigued, especially for the implications for our own church, that they apparently reimburse parents for childcare costs while they are attending small groups. They have a reimbursement form and payment chart even. Interesting.
All in all, it was a fast read for me. Not revolutionary, but supplementary. I can highly recommend it.
On this day...
Latest posts by Jeff Noble
(see all)