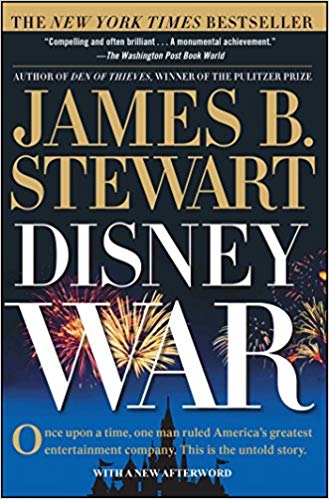 Disney War by James Stewart was a fascinating and disconcerting read at the same time. Having just come back from a week in DisneyWorld earlier this month, this book revealed the "dark side" (as Eisner claims everyone has) behind the magic.
It all boils down to this: Michael Eisner's 20+ year stranglehold on the Disney Corporation was highlighted by almost a manic obsession with anyone receiving recognition beyond himself. He routinely lied, twisted, and covered truth. As author James Stewart concludes at the end of the book, it doesn't appear that Eisner even became aware that there was a "truth" – that whatever he said was "truth."
A legion of amazingly talented folks exited from Disney during his reign of insane, uncontrolled outbursts and character assassinations. Some formed Pixar; others formed DreamWorks, and still others head literally dozens of media and household corporations that you know and love today.
What would Disney be today without Eisner? Who knows? But I imagine it will be years before a culture of openness and creativity without fear are restored. You can't abuse people for 20+ years and then expect for the dysfunction to disappear overnight.
Name one Disney movie or park or thing that you like, and chances are, Eisner was NOT behind it. In fact, chances are, the folks who were behind were forced out later because of their success.
An interesting omission in Stewart's book… there is only one mention of "evangelicals" in the book as a passing sentence describes Eisner as "secular" and relates how deeply he hated Pat Robertson. However, there was absolutely NO mention of the Southern Baptist Convention's boycott of Disney, nor of the numerous evangelical ministries' call for reform within it.
It's clear from reading the book that the downward spiral for Eisner began nearly simultaneously with the evangelical community's call for a return to family-friendly fare. While I knew that a few years following the boycott, Disney's stock hit an all-time low, I was not aware until I referenced the dates that perhaps there may have actually been some divine intervention, even judgment taking place within Disney, far from the eyes of those praying for it.
On this day...
Latest posts by Jeff Noble
(see all)