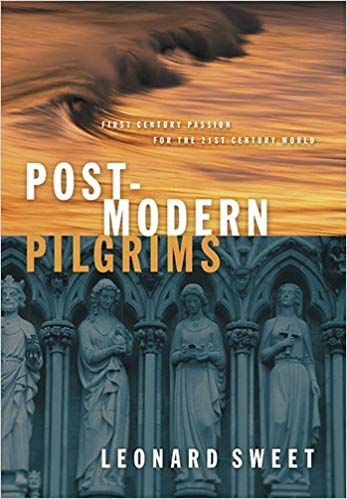 You can go wrong reading Leonard Sweet, but you can't go far wrong. I never know what I'm going to get from this Christian futurist/theologian, but Post-Modern Pilgrims: First Century Passion for the 21st Century Church was a good read.
Post Modern Pilgrims outlines what he's been saying for years about the need for the church to be EPIC:
Experiential
Participatory
Image-driven
Connected
I've heard Sweet speak at several conferences when I was in campus ministry, and the book was like a refresher course. Of all the books he's written and that I've read, this was perhaps the most readable. (Apart from A Cup of Coffee at the Soul Cafe)
About experience, Sweet encourages the church to quit being so heady and to engage people completely. This postmodern generation is thirsty for real, authentic, piston-charging experience.
It's marked in extreme sports, video games, and reality shows. Sweet notes, however, that one has to be sensitive when creating a church climate of holy experience:
Experiences can become idolic as well as addictive. Postmoderns collect "experiences" like moderns collected "stuff."
I love how Sweet later affirms that for the believer in Christ, whether modern or postmodern, experience must always submit to obedience.
Saying yes to the moment does not mean letting the moment define the yes.
When Sweet talks about participatory, he points to festivals like Burning Man as an example. The postmodern generation (and everyone else, I think) is no longer satisfied with sit and soak church. The very nature and vibrancy of being a follower of Christ demands that we vacate our classroom-model churches and model community, service, incarnation, and love to the world.
People want to be involved. They do not want the entire reason for the church membership being to keep the machine running and to pay the light bills. He says one church attempting to provide experience is Community Church of Joy. Regardless of the fact that it's name gives me the eebie-jeebies, I think that since his book's publication, many, many more churches are amping it up with it comes to offering participation-focused ministries. I think it's scriptural. After, Ephesians 4 tells us that ministers are to equip God's people for works of service.
Sweet's chapter on being image-driven is equally fascinating. Why is it that so many Protestant churches (and especially new church plants) are so, well, visually dead? Sure, they splash a nice Powerpoint every now and then, but art, beauty, architecture and majesty are simply absent. Sweet (and others) point to the Reformer's emphasis on how many of the ascetic features of the Roman Catholic Church had become ungodly. Millions were spent on church edifices, while the poor and hungry lived in the shadows of the steeple.
However, I agree with Sweet that the pendulum swung too far. God is beautiful. He said about the world he created, "It is good." The church today needs some sprucing up, and it needs to encourage and facilitate and produce rich, meaningful art. One church doing a good job with image is North Point in Atlanta. Their website uses the images of Foyer-Living Room-Kitchen to help communicate the progressive stages of relationship.
As far as web sites go, Sweet talks about the importance of a church being connected. While he means much more than just the internet, Sweet says that a good website is like a watering hole. Everyone should go there for refreshment. He uses phrases throughout the book that surprise and delight you unexpectedly like…
As for me and my mouse, we will serve the Lord
Word of "mouse" communities
Though written in 2000, Sweet says that at the time, 85% of churches now offer some type of cell group opportunity. That was a little shocking, and there was no footnote or documentation for the assertion. I tend to disagree with that. I don't think that just any smallish group of folks gathering inside or outside the church classifies as what most of us who are seeking to model small group ministry would call a "cell group."
Sweet takes a great parting shot at churches (I really chuckled out loud) and other organizations when he decried the silliness of websites that are merely brochureware. It's not hard to imagine what he means – one page jobbers that are more like a digital poster than an interactive experience. For a great example of a site that encourages much of the above, check out theooze.com.
All in all, I'd recommend Sweet's book (and mine is available for borrowing) as a good stab at a postmodern primer.
On this day...
Latest posts by Jeff Noble
(see all)