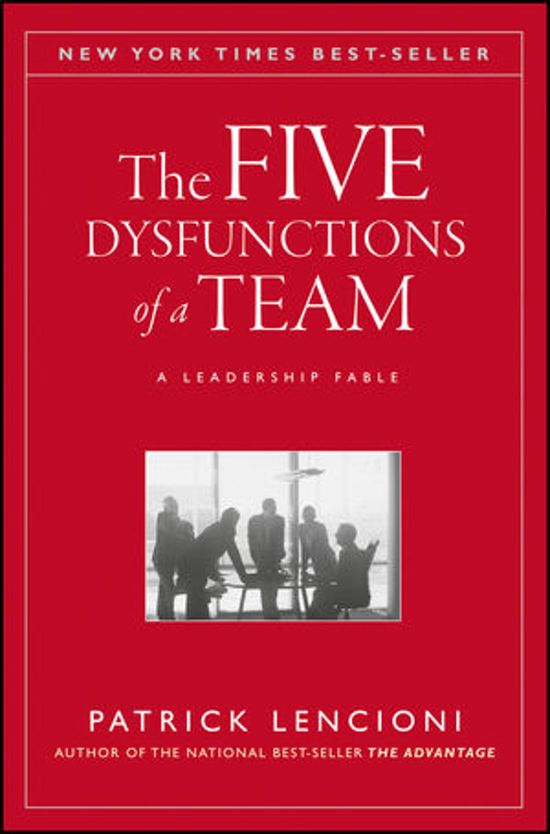 The Five Dysfunctions of a Team: A Leadership Fable
by Patrick Lencione
Lencioni's book is fantastic! The book is written like a novel, as the characters of a promising but rapidly failing techonology company see their board appoint a CEO to try to rescue the company from an early demise. The CEO's diagnosis? The problem is not the product but the leadership team and how they relate with one another.
At first, the team is resistant, but as Lencioni weaves this tale, he drops in five principles necessary for a healthy team and thus a productive and healthy organization. I found myself unable to put the book down because of the compelling story and the dynamic principles involved.
Given some of the things that our church has experienced recently on its leadership team, it turns out this book was almost prophetic in nature. It was certainly encouraging.
Here are Lencioni's five dysfunctions of a team:
Beginning with an Absence of Trust leads to
Fear of Conflict which generates
Lack of Commitment which leads to
Avoidance of Accountability which creates
Inattention to Results
At each level, Lencioni brings practical suggestions to bear. Given that the author is also a Christ-follower, it's easy to recognize the biblical principles involved in each phase.
He says that an absence of trust essentially stems from members of team being unwilling to be vulnerable within the team environment. When team members hold back what they're thinking or what they're struggling with "both personally and about the organization" it "makes it impossible to build a foundation for trust."
When there is a lack of trust, few people are willing to engage in conflict. Lencioni says that conflict is absolutely normal and necessary in growing, healthy relationships and that it should be engaged in passionately and regularly. Only when conflict is allowed and even embraced can people's true thought emerge and great decisions be made. When there is an absence of trust, however, conflict is avoided, or it becomes centered on personal issues rather than true issues at hand.
There is a lack of conflict when there is a lack of commitment. When someone isn't willing to "see something through," it shows that they generally aren't truly committed to the organization, its leaders or its people. Because of this lack of commitment, leaders on a team will rarely share what they're thinking and may even "feign agreement during meetings."
Peers on a team will hesitate to hold one another accountable when they sense that some of the other dysfunctions are present. They reason, "Why confront this person when they are not going to fully commit to the organization?" They may also not see the rationale in holding someone accountable when it doesn't seem like there are clear standards to abide by.
When team members are not held accountable for results and for bad behavior, it creates an environment where results become unimportant. Team members begin to put their own personal preferences, opinions, and thoughts before the good of the team or organization.
Lencioni says that any of these dysfunctions can produce the others. They're like links in a chain, when one is broken, teamwork diminishes and is hindered.
I highly recommend the book; it's short and an easy read. One thing that most folks will be surprised about is just how healthy conflict can be for organizations when it is nurtured and directed in healthy ways.
Encouraging differing opinions to be expressed and then working through them for the good of the team and organization is essential, the author says. Another essential is for members of a leadership team to see their team as their "first team." In other words, they must truly confide in and count their highest team as their priority team, fully committing themselves to their peers on that team for growth, development, and progress.
On this day...
Latest posts by Jeff Noble
(see all)