The Invention of Hugo Cabret
by Brian Selznick
What a delightful surprise this book was!
It's bulky 533 page mass beckoned mysteriously the last time the kids and I were at the public library. The library had put it on display as a new book.
I flipped through it and was fascinated with the hundreds of pages of original artwork by the author, Brian Selznick. I showed it to Adelyn, our 8 year-old and asked, "Do you think you could read this?"
She looked at it, intrigued, but clearly doubtful.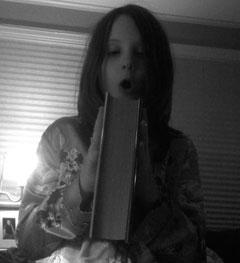 Imagine her delight when a week later she was proudly posing for a picture to show that she'd read the book! A third grader who had polished off a 533-page book is quite an accomplishment, I would say – even if the book had hundreds of pages of pictures.
It's a rewarding achievement and gift for a child to realize that they can tackle a book of that size. I saw in Adelyn that proud evening the dawning of a new day of book reading desire.
I picked up the book after she completed it and was quickly immersed in the story. Selznick has indeed earned his Caldecott Medal for this achievement. It's not so much as a good read as it is a visual, epic feast.
The illustrations combine with the story to give you the sensation of watching an old movie. And indeed, that's what much of the plot is about. As you read this fascinating tale, you'll also learn some amazing history about early movies. Every movie referenced in this magical tale is real, and one of the main characters is also real.
It revolves around the discovery of an automaton hidden in the attic of an old museum. The incredible thing is that such automatons are real, and one, shown in the video below, was made in 1810!

I'd highly encourage anyone to sample this innovative medium. You won't be disappointed.

See more about The Invention of Hugo Cabret
On this day...
Latest posts by Jeff Noble
(see all)