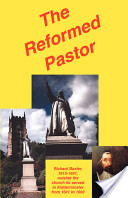 The Reformed Pastor
by Richard Baxter
Here's the scene: a pastor is deeply frustrated about the steady degeneration of his society. In addition to this, churches are in sad shape across the country. Members of churches are self-consumed and refuse to be held accountable for their spiritual lives. They actually get offended when a pastor seeks to point out issues, sins or rebellion in their lives.
In addition, churches are splitting left and right. Some entire groups won't tolerate other groups. The pastor continually warns that such division will only discredit Christianity as a whole in the eyes of society.
To make matters worse, many pastors have abdicated their role as spiritual shepherds and simply seek to preach and teach bland self-help material, passing it off as the Gospel of Christ. They avoid controversial matter, for fear of offending someone. They do not seek to discipline nor disciple their members, nor are they training leaders to carry on the work of the ministry.
You may be thinking that this sounds pretty normal. However, Richard Baxter addressed these concerns and many others in his book The Reformed Pastor during the mid-1600s. I wrote a while back about the importance of learning from "old dead guys," and I stand by that. If you haven't read any Christian books published prior to 1900 recently, your Christianity is certainly skewed, and you may even be guilty of what John Piper calls "chronological snobbery."
Baxter has been called the "Prince of Preachers," and this book (one of his more than 168 works!) is a demonstration of his deep burden for the beauty of the bride of Christ, his careful articulation of theology, and his extremely practical approach to Christian living and leading.
For pastors who avoid discipline (or church members who decry it), Baxter said:
The tempter surely has gained a great victory when he gets but one godly pastor of a church to neglect discipline; if it were well understood how much of our pastoral authority and work consists in church guidance, then it would be also discerned that to be against discipline in the church is tantum non to be against the ministry. Again, to be against the ministry is to be absolutely against the church. And to be against the church is near to being absolutely against Christ.
Sir Stephen James, writing of Baxter, said, "Men of his size are not to be drawn in miniature." I am afraid that any attempt to summarize this book or the man in one-entry blog would do just that. I highly encourage any Christian leader to read, digest, and allow this book and its hard-hitting practical advice to reform your ministry. At the very least, it's a humbling evaluation tool.
This small book by Baxter would cause large waves in the evangelical pool if but half of the pastors in your area would read it. It is a great discussion tool for practical and personal ministry. Much of the book was originally written to be an address to a group of protesters – Protestants. Baxter does not pull any punches. When talking of ministers' communion with one another, he says:
Do not grow strange to one another. Do not say that you have business of your own to do when you should be at any such meetings or other work for God; Even if you could do without the benefit of such meetings, yet the church and our common work required them. Do not then show yourselves condemners or neglecters or such necessary work. Distance breeds strangeness and foments dividing flames and jealousies. Communion will prevent or cure this; Ministers have need of one another.
Before one thinks that Baxter doesn't have much to offer the Christian layperson, I would urge anyone with the desire to learn to read the book as well. It has so much to say about the attitude and practice of laity as well as pastors.
Considering that Baxter was both a political leader and prison frequenter during his tenure as pastor should interest you as you do more research and reading into his storied ministry. I, for one, am putting one book on my wish list: A Life of the Reverend Richard Baxter.
According to Wikipedia, Baxter's Call to the Unconverted is, "without doubt, his most famous and enduring contribution to Christian literature; This slim volume was credited with the conversion of thousands and formed one of the core extra-biblical texts of evangelicalism until at least the middle of the nineteenth century."
On this day...
Latest posts by Jeff Noble
(see all)