This is my last entry for the High School Blog Week in which it seems I'm the only one who participated, apart from a random entry by Mark, TJ, K.T., and Angela. I've had far more fun with this than I imagined, traipsing up into the attic to pull down scrapbooks, annuals, and record albums. I've only had a couple of emails from old classmates; I guess most are waiting with bated breath to see what pictures I post before they tempt fate.
Probably my most stunning picture was from ninth grade. I still have those glasses. You can weld in them today. They afforded not only vision enhancement but head protection. They were huge. I've always thought I might take out a lens and use it for a DirecTV dish.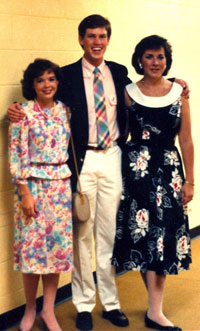 I stumbled across this picture of me styling with Shawn Buffalo and Shannon Sorrels. This was post butt-part, so it was taken in the spring semester of my senior year. The butt-part got a comb over sometime over the holidays at the recommendation of I forget whom (but to whom I am eternally grateful). ~ "Whom" – say that to yourself about 5 times out loud, and you'll swear it's not a word. Weird.
I had the honor of being selected by classmates as "Most Spirited" and for the yearbook "Hall of Fame" my senior year. That occurred in spite of the fact that I donned a Superman cape and t-shirt at a State Student Council Convention my junior year as Tanya Siebert, Angie Harrison, and Bryant Turbeville sang to the tune of the Superman movie theme song:
Pulaski Academy…
Making a difference you can see
A great state council we want to be
When you vote… Pulaski Academy!
(You'll have to review the USA for Jeff entry to envision why this may have been the single, stupidest thing I've ever done.) My student council buddies were emboldened to sing in public for the sheer ecstasy of watching me make a fool of myself. I wish I'd thought of it first. As it was, I seem to recall thinking, "That's a really funny concept! Now who is going to dress up like Superman…" All eyes were on me. "Oh no. Not me.." met with great protest and the smiles and manipulative-encouragement of two gorgeous gals melted my better sense. Dangit.




I'm not aware of possessing any pictures from that event, but it may have been a purposeful decision. I'm sure Tanya has a plethora of them somewhere. She took more pictures in high school than the combined total taken by both of my grandmothers.

My senior year saw another lapse in judgement. I tried out for a school play. I have no idea what possessed me to do so. It's totally "out of character" for me. Still is – other than the fact that I'm a complete ham. However, that year we performed Westside Story, and to be honest, I loved it. I was "Baby John," the innocent, naive gang member. I still love snapping my fingers to:

When you're a Jet, you're a Jet all the way
From your first cigarette to your last dying day

When you're a Jet, you're the top cat in town,
You're the gold medal kid with the heavyweight crown!

I also remember being vividly shocked with the rest of my classmates on January 28, 1986. We'd just returned a week or so before from holiday break, and we were enjoying the unique break provided that morning in all our classes to be able to watch on TV the launch of NASA's STS-51-L mission; the spaceship Challenger was the vehicle selected to fulfill that mission. It exploded before our eyes and those of a watching world 73 seconds after liftoff. Though minute in comparison to the loss of life, I can only compare my emotions at the time with a similar shock and disbelief I felt before a TV screen 15 years later on September 11, 2001. It was made all the more poignant because we were aware of Christa McAuliffe, a school teacher, who was on the flight as an honor for being selected from more than 11,000 applicants to be the first teacher in space.
I attended Boys' State at UCA during the summer of my junior year and hated it. I was selected and attended Governor's School during the summer after my senior year
and loved it. I met so many gifted and unique students from all across the state that summer while at Hendrix. It also challenged my faith in significant ways but I exited the school far more confident of the authenticity of my faith in Christ than I was before. Being selected as a Governor's Scholar also enabled me to attend Ouachita Baptist University the next year on full scholarship.
Since ninth grade, I had worked on grades. My folks had hammered into my head the necessity of academic excellence if I was to have any significant choice in where I went to college. Studying was never difficult for me, for some reason. You would think it would be due to intelligence, but the whole Superman incident should persuade you otherwise. I did graduate from P.A. as valedictorian of my class. Deborah Pike and I led at various times throughout senior high; she was a good friend and between the two of us, we seemed to mutually challenge each other academically. Perhaps I have her to thank as well as my folks for keeping my nose to the grindstone.
Reminiscing on those days of faded glory have been a unique and entertaining project the past week or so. It's been somewhat of a catharsis. This year was my 20th high school reunion with my fellow Bruins of those days. So much had changed and so much hadn't. I haven't kept up with many of my classmates over the years, and I can honestly say I regret that. They are some incredible people.
I returned from my reunion and composed an email to my class related to high school faith. I wanted to know if they knew I had any. You see, I was a Christ follower in high school; however, my faith was not overt. Whether from insecurity or wisdom, I don't know, I was not "in your face" about faith. Due to that, and after some conversations at the reunion, I really wanted to know if my lack of a strategy as a teenager produced any fruit at all in my classmates. Here's the text of that email…

Hey everyone!

Just had to chime in. I agree completely with what everyone else has said about the reunion. It was SO good to see everyone. Genuinely. I was so proud to be a part of such a great group of people and was excited to hear how/what everyone is doing.

We all deeply missed those of you who weren't able to attend. There are just so many memories and shared experiences in such a group of people.

I hated that Carolyn and I had to leave when we did. We just didn't get enough visiting time in with anyone. Conversations were warm, encouraging, but all too short with each of you. How do you visit with everyone meaningfully in such a short time after 20 years? How do you delve deeper to find the joys, triumphs, heartaches, and collective experiences of our class in a weekend? It was almost frustrating to realize that so many of our conversations could only scoot along on the surface.

Thank you to all of you who contributed to my life! Last weekend was surreal. I've forgotten more than I remember, I hate to admit. I would cherish more time to dig and laugh and learn.

Here's another thing… I want to throw it out like a fish hook just to see who might bite…
As many of you know, I currently serve as a co-pastor of a new church in Monticello. Seeing all of you challenged me deeply about what influence/effect (if any) my faith played in my relationships with you in high school. I confess to you all that I did not live as boldly, joyfully, and genuinely as I should/could have as a follower of Christ while with you. I regret that deeply. And as much as I don't want to know, I would like to… were you aware of my faith in Christ while at PA? To what extent? Was it offensive/bothersome/pretentious? To what level did my faith seem real to you? Were there any events/conversations/etc. that caused you to discount my faith or claim to faith while at school? Or was I just a nice, bland guy?

Again, as much as I don't want to know… I would like to. It will challenge me to live and die better from this point in all my current relationships and circles of influence.

I'd be interested in your observations and what you have to say…

Again… it was SO good to see you all. I wish you the very best and look forward to opportunities we have to gather again!

Jeff
I received some encouraging emails back from classmates, and many even affirmed their own faith in Christ, some had given their lives to Christ since high school. Others were like me: the frozen chosen. However, I'm not in charge of evangelism; God is. I can only continue to hope that my lifestyle and daily decisions that I make in submission to Him produces far more fruit than I'm ever aware of.
I gotta tip my hat to Mark who provoked these entries about high school. I gotta send an electronic group hug to the class of 1986, P.A. Bruins: Thanks. Deeply.
High School Blog Week… it's been fun, but for now… 'nuff said.
On this day...
Latest posts by Jeff Noble
(see all)