Just hours after I downloaded the iPhone 2.0 update from Apple's site (and a day earlier than it was going to be released!), the iPhone Dev Team had already announced a jailbreak! Gizmodo was one of the first to release the news, although the truth is that just about every incremental release of the 2.0 beta has been jailbroken by them over the past several months.
Here are some questions I don't know the answer to:
Can those of us who updated to 2.0 hastily jailbreak our phones?
Or does the jailbreak apply to the pwnage method prior to updating to 2.0?
After six hours with the update, I am still extremely impressed with the App Store. However, I'm growing less and less impressed with the range of free apps that are offered. Don't get me wrong; I've installed some really cool ones, but I just doubt that most of them will have lasting use. There is a certain "cool" factor to some of them, but I can already tell that I won't use them very much.
On the other hand, I had dozens of free games and other nice apps on my jailbroken iPhone that I used regularly that aren't available on the App Store. There's just nothing to compare with the jailbreak community and their spirit of open source. Developers for the App Store are wanting $.99 to $19.99 for programs – and there's no way to try them out before buying. Who does that anymore? If anyone is going to spend money on software, you generally want to know if it will do what you need/want. I know it's all about the money. It's just that I don't have any. 😉
This evening as I play around with the new apps and peruse the features of 2.0, I honestly don't know which direction I'll head in the days to come. I can say that Apple has hit a home run with this firmware. Many folks are going to LOVE it. There will be cartwheels turned all over tomorrow when folks get the official release.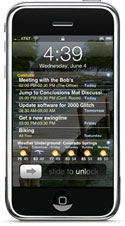 For those of us who have grown to love the open source feeling of a jailbroken phone, however, I would imagine that there are many folks like me with somewhat mixed feelings. I wrote a post last October that expressed my frustration with Apple's inability to understand what tech folks really want from them: freedom.
A good example of what was left out is the app Intelliscreen. It is one of the most powerful, helpful and innovative apps that I loved on my jailbroken iPhone. Yet, they do not develop it for the App Store. A quote from their website says:
Couldn't Apple have had a more open mind to open source? There's some amazing geniuses that aren't at Apple. For Pete's sake, a 15 year-old developed iJailbreak last year.
And maybe that's what bums me out. I want my free Yahtzee game back on my iPhone. I can't have it without a jailbreak. That's just the beginning of apps that I no longer have. Others include iPhone Video Recorder, MobileScrobber, Intelliscreen, Twinkle, Solitaire, Super Nintendo and 100s of games for it… and the list goes on.
On this day...
Latest posts by Jeff Noble
(see all)