You better watch out.
You better not cry…
Or should you?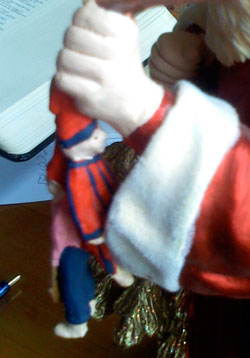 I was spending some time in scripture reading and prayer the other morning when I happened to glance over at the end table where my coffee mug rested. My eyes were somehow drawn to the ceramic Santa perched proudly thereupon. When what to my wandering eyes should appear but two tiny children dangling helplessly from his clenched fist…
Aaaaaah!
Now that's just downright spooky.
I haven't said a word about it to my wifey yet. It's probably some family heirloom that has never been at eye level. Now that it is, it's sure to scar any impressionable mind. What the heck is he doing here? Carting off bad children to work in his sweat workshop?
Now I can't sit in that chair without wondering about the sadistic Santa.
On this day...
Latest posts by Jeff Noble
(see all)