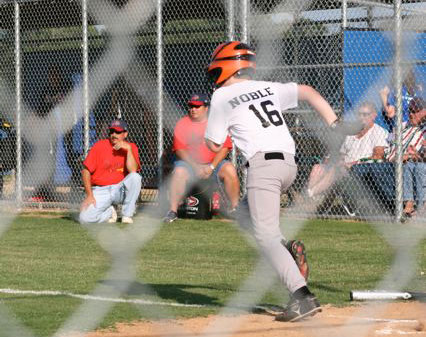 Not being a baseball guru, having two kids playing the sport this summer is somewhat of an irony. I sit with a couple of families on a regular basis right up next to the chainlink backstop sniffing St. Augustine. I have created my own puddle of slobbery sunflower seeds on more than one occasion. I nod my head and commiserate with one of the other dads about strategies, coach mistakes, player goofs and so forth like I know what I'm talking about. I'm pretty sure Gene and everyone else around me knows I'm a baseball idiot.
Questions like "Sooooo… what's a balk?" are a good clue. It's been explained to me about 3 times this season so far, and I still don't get it, nor understand why it's even a rule.
The other night, after the third strike, the crowd suddenly went wild, screaming, "Run! Run!" I joined in, not knowing what the heck I was screaming for. The boy had struck out. Plain and simple. But if they wanted to yell at him to run off the field, that sounded fun to me. However, the deal was that the catcher had dropped the pitch. Apparently somewhere in the annals of baseball someone said, "Hey, this sport is so slow and nap-oriented that we need to throw in a few crazy rules just to keep people awake, so let's say that if the catcher drops the pitch on the third strike, the batter can run." Nevermind that it's like getting the dry heaves. You normally get all worked up over nothing. You get all excited and start screaming, "Run! Run!," but the odds of the runner beating the throw to first are heavily against him. Yet, I've seen it happen, so I now scream with the best of them.
However, I was "thrown" this past week when the coach yelled, "Stand up! Stand up!" at the boy running from first to second. What in the world? I mean, the boy was in a full, head-long sprint. How could he not be standing up? Of course, I turned to Gene and asked one of my typical baseball-is-beyond-me-questions. 
I learned that what the coach was trying to communicate to the runner is that he needed to be prepared to round second in preparation for advancing to third, rather than sliding into second and missing that opportunity. Usually, it means that the ball is nowhere near second, and that the runner has a good chance of moving on.
"Ooooooooh," was my response, if I remember correctly.
The more I've thought about it, the more I see a similarity in how Christians live their lives. Too many of us are sliding into second base, simply hoping to be "safe." We are totally unaware of what's happening in the larger game. We're in desperate need to hear from the Coach. Most of us would be surprised to hear Him shouting, "Stand up! Stand up!" This game is not about playing it safe. It's about advancing toward home. When we stop running, we miss out on the opportunities that God gives for us to move forward in life.
I have overused the story I heard about the little boy who fell out of bed in the middle of the night. After settling him down, his father asked him what happened. "I guess I stay too close to where I got in," he replied.
That's an apt description for many Christians. After making the decision to accept Christ, they forget they're also called to follow Him. They stay too close to where they got in and simply never grow beyond their point of initial calling. 
What about you? Are you pursuing God daily? Are you seeking His will to be done in your community, your work, your home and your personal life? In this day and age, it's no time to only seek to be safe. It's time to put some runs on the board.
Stand up!
"Therefore put on the full armor of God, so that when the day of evil comes, you may be able to stand your ground, and after you have done everything, to stand." (Ephesians 6.13)
On this day...
Latest posts by Jeff Noble
(see all)