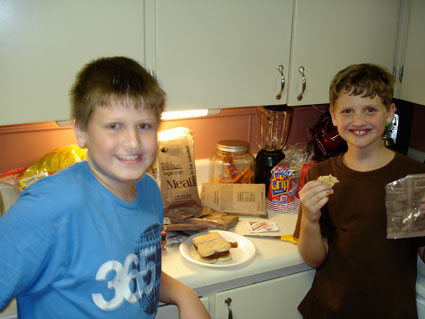 Sam and Zac McKinstry spent the afternoon together. I never saw them until they came loping into the house, dripping in sweat.
"Where have you been?" I asked, curious.
"Riding bikes on North Main," Zac said.
"Where on North Main?" I said.
"On the road," Zac said.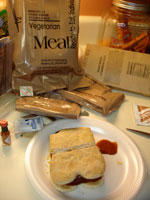 They both snickered and then proceeded to the kitchen to eat an MRE, which Zac had brought with them. I stood there, scratching my head, wondering when I had begun to let rugrats get the best of me in conversations like that.
Zac and Sam both love the outdoors – Zac probably more than Sam, cause he lives, eats, and breathes the new shows like Survivor Man and Man vs. Wild. I think the McKinstry family have been living off MRE's for the past few weeks, cause I keep hearing them describe various meals they've had. The most intriguing thing about an MRE is watching a plastic bag boil food without melting itself.
I sampled the Vegetarian Burger and tried to swallow some "cinnammon bread," and in doing so wondered if they make PeptoBismol packs for the soldiers.
On this day...
Latest posts by Jeff Noble
(see all)