You know, I never saw it coming.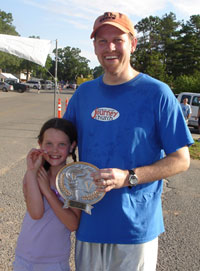 A few weeks ago, Adelyn commented to Carolyn that she would like to "run." She didn't mean run away, simply run. Carolyn helpfully suggested that she enter the Rough & Ready 5K Run/Walk, and so she began training. Her training also became my training. You see, Carolyn wanted someone to run with Adelyn around the block. I started doing it reluctantly at first, but then actually enjoyed it. I found I could run without stopping for great lengths – that is, the length between two mailboxes.
We ran/walked together for about two weeks. This past weekend was our town's annual festival. As small-town festivals go, it was good this year – much better than last year. Sometime Friday night, I thought to ask Carolyn exactly when the 5K Run/Walk was the next day. 6:45 a.m! The next morning, we all headed up to the city park for the extravaganza. We, of course, entered the 5K "Walk" portion, and at around 7:15, the gun fired and away we… well, walked.
I saw immediately I had a problem. Adelyn left me in the dust to walk with three gals who had obviously "power-walked" before. I hung back to visit until I realized that Adelyn was about 100 yards ahead of me, and I thought, "What if she gets tired and wants to slow down? She'll be by herself…" So I jogged up ahead to close the gap to about 50 yards.
As I tried to keep the distance between us consistent, I noticed something odd. When one is power-walking, you cannot control your butt. It gyrates side-to-side in amazing fashion. I thought it was just an ailment of Adelyn and the women she was walking with, but I soon realized that mine was doing the same thing. My arms were also wildly swinging. Humiliating. No one had warned me that you cannot look cool and power-walk at the same time.
About 2 miles into this 5K, I realized that I was not closing the gap, but actually losing ground. That's when I began swinging and stepping with a purpose. I finally was able to get about 20 yards behind Adelyn and the other leaders (yes, Adelyn was keeping up with the older gals). She was quite the sight. She seemed to be interested in talking, looking at flowers and frolicking along like "a puppy" (as one of the ladies later told me) than power-walking. Me, I was pooped.
It was with less than a quarter of a mile left when Adelyn noticed how close I was, and after a brief pause, stopped to wait for me. Sniff. She sacrificed her place for me. Sniff. We finished the rest of the way holding hands.
When we crossed the finish line, everyone yelled as if we had just beat the Russians in Hockey in the Olympic games. I was kind of surprised by this. No one ever cheers for me when we leave the mall, and I think I do more walking there. However, I was a little chagrined to realize that by keeping up with Adelyn, I had won first place for the male walkers. I think there had been three of us total. Great. I did get a nice little trophy, which I gave to Adelyn, because she really deserved it, and Adelyn came away with her own trophy – a diamond ring she found while walking!
On this day...
Latest posts by Jeff Noble
(see all)