Many of you have noticed the icon to the right at the bottom of all my posts.
 It's a referral tool, and there are dozens of them out there. When you click on the button, it gives you an option to refer – or "Digg!, stumble, spurl, etc. – the entry you have just enjoyed reading to the attention of thousands. It's just that simple. A button click.
Here's why it is important:
Recommending an entry that has informed, inspired, helped or given you insight and direction will obviously do so for others as well.
Recommending an entry will bring more traffic to the author's site (and if they have linked to yours, it will produce indirect benefits for you as well).
It helps promote content that you enjoy to the attention of others.
It helps you keep a record of interesting entries, articles, and news items in one place. (Digg, Stumbleupon, Reddit, Spurl, Magnolia and others all track the entries you've referred.)
If more than one person recommends the same site or article, that article will gain popularity across the net quickly.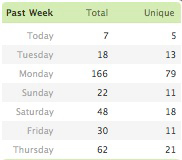 You might be wondering if it really works? Earlier this week, I "stumbled" the article that Mandy had written for our church website. The graph to the right shows you the hits on the site for that week. Guess when I stumbled it?
More traffic means more influence. If you own a business, are self-employed or are a Christian, this should be important to you. You want more influence, right? 
That's why you want to practice social referring. With any of these services, you'll have to create an account. That's a real pain, I know, but after the account is created, you're ready to go. Find one service you like and stick with it. I've been experimenting with Digg and Stumbleupon, and there are many articles recommending the latter over the former:
Why does anyone care about traffic or social referral sites? Well, think of the blog/website world like you do about a local dentist, for example. You're trying to find out which dentist to use after moving to a new town, and you begin to ask around right? It's pretty much the same concept with social referral sites. You're simply telling others what sites, articles and blogs that you consider trustworthy, interesting or good.
If you link your Digg or Stumbleupon account to your lifestream (the list of web activity you can see in my right column), then folks can see at a glance what you're recommending and reading. 
History
What we're really talking about is referred to as "social bookmarking." The granddaddy of them all is del.icio.us. I've never gotten into it, though I have an account there. 
Here's a decent summary of the social bookmarking timeline from Wikipedia:
Founded in 2003, del.icio.us pioneered tagging and coined the term social bookmarking. In 2004, as del.icio.us began to take off, Furl and Simpy were released, along with Citeulike and Connotea (sometimes called social citation services), and the related recommendation system Stumbleupon. In 2006, Ma.gnolia, Blue Dot, and Diigo entered the bookmarking field, and Connectbeam included a social bookmarking and tagging service aimed at businesses and enterprises. In 2007 IBM released its Lotus Connections product. Sites such as Digg, reddit, and Newsvine offer a similar system for organization of "social news".
Faster than leaving a comment
One other thing… social bookmarking provides a much faster way to indicate that you appreciate an author's content when you don't want to think up a comment. Just click on the button under the article, and the feedback is registered through your referral!
On this day...
Latest posts by Jeff Noble
(see all)