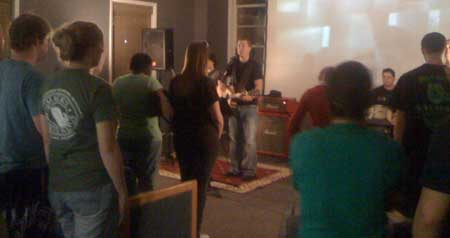 Speaking Wednesday night at UAM's Baptist Collegiate Ministry was the second week in a row that I've had the joy and privilege of sharing in front of college students. Last week, I spoke on a panel with several friends I served with in collegiate ministry at the HSU BCM. That makes two weeks in a row of speaking to college students.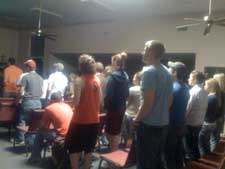 With spring break only a few days away, the UAM BCM is preparing to take 8 students to Hungary and four others are headed to aid Union University in Jackson, TN with tornado relief efforts. College students across the state are mobilizing to go "there" to carry the message of Christ and to actively serve others in whatever capacity is most needed.
It's one thing that I miss about serving as a collegiate minister. College students, when touched and inspired by the Lord, are uniquely able to "go." They are ready simply to "get the job done." After working in a church – even a new church as ours is – for the past five years, I see too often in my life and our members a quick hesitancy to respond quickly to God's activity. We seem to become masters of delay the more "mature" we become.
Objections are raised as to why something may not "make sense" or when things are not "rational." Now, that's not to say AT ALL that faith is not rational. You do not need to check your brains at the door of the church. However, too many of us use twisted logic to excuse ourselves for responding personally to God's call upon our lives.
Excuses like…
We can't afford to give.
God wouldn't want us to suffer.
I just don't have time.
What would we do with the kids?
Who would watch our house?
There are people around here with just as many needs.
I don't feel called.
… and the list goes on and on.
This is not to imply that collegians don't have objections and twisted logic. In fact, they raise many of these same issues and also can get extremely creative with their excuses. However, I have always been profoundly impacted to stand before a group of college students and see them respond passionately and immediately to needs and ministry.
You may recall that Caro and I went to Passion 08 in Dallas in January. (I went the first night and then lay in the hotel with the flu the rest of the weekend). During the conference, the leaders told of the tornado's devastation of Union University. "Poor" college students responded by buying clothes and surrendering their own during the weekend. A 26 ft. truck was filled with their donations and driven to the campus!
In addition, over at the Passion blog, Louie Giglio reports about the Dallas event:
The students brought 3700 towels and 17800 pairs of socks for shelters throughout the Metroplex. They gave $18,992 to build over 6 wells for African villages, and $80,040 to help make a Passion event in Seoul possible in October! WOW! And do you want to hear something really cool? Someone who was there Saturday night offered to double the number of wells AND the Seoul offering before knowing the totals. We haven't seen the check yet, but when it comes that will mean 12 wells and $160,080 for Seoul!
Last year at Passion 2007, the Do Something Now campaign was unveiled with a $500,000 challenge to collegians. They met and surpassed that goal by doubling it – more than $1 million raised! (Go here for details!)
With all that said, you might want to check out the exciting news about a budding campus revival taking place at UAM. Would that all our churches begin to see folks respond as quickly, passionately and dramatically as college students to the joyous opportunity of extending God's glory.
On this day...
Latest posts by Jeff Noble
(see all)