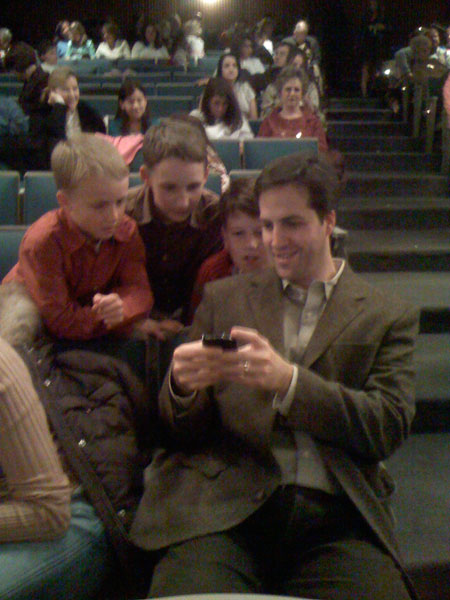 After a couple of months of weekend practices and much fru-fru buildup around the house, our daughter (8) performed in The Nutcracker at Robinson Auditorium in Little Rock yesterday. She was cast as one of the little angels (and it was such perfect typecasting…). Almost 30 folks from Monticello made the trip to Little Rock to watch the performance as well as my family and Carolyn's mom and sister, from Hobbs, New Mexico and El Paso, Texas.
With all the hoopla going on, Sam and I were ultra concerned about missing the games. This weekend was the first week of our fantasy football playoffs. Sam and I were slated to play each other, and the winner moves on while the loser, well, loses.
So slow moments (and there were many) found Sam and me sneaking peaks at my iPhone to see who was winning. My brother-in-law James helped out as well with his Blackberry, especially during intermission.
Probably one of the funniest moments came on the way to Little Rock, when Sam asked Carolyn, "Mamma, will there be a concession stand there?"
Adelyn did great, by the way. She looked beautiful and was quite the budding ballerina.
All the guys who made the trip were ultra disturbed by the male ballerinas' leotard bulge.
Oh, and as of Sunday night, I was 15 points up on Sam, but he has a quarterback left to play in tonight's MNF showdown.
On this day...
Latest posts by Jeff Noble
(see all)