I use Goodreads to help me keep track of my reading, leave brief reviews and get book recommendations. It's really a fantasist resource.
I set a goal of reading 25 books this past year after reading 26 in 2017. I thought this year was going to be crazy busy (and it was), so I scaled my expectations for reading back. Little did I know that my reading for 2018 would become a comfort and solace for me in the midst of craziness, and by the end of the evening on December 31 (I finished one last book), I had read 38 books in 2018!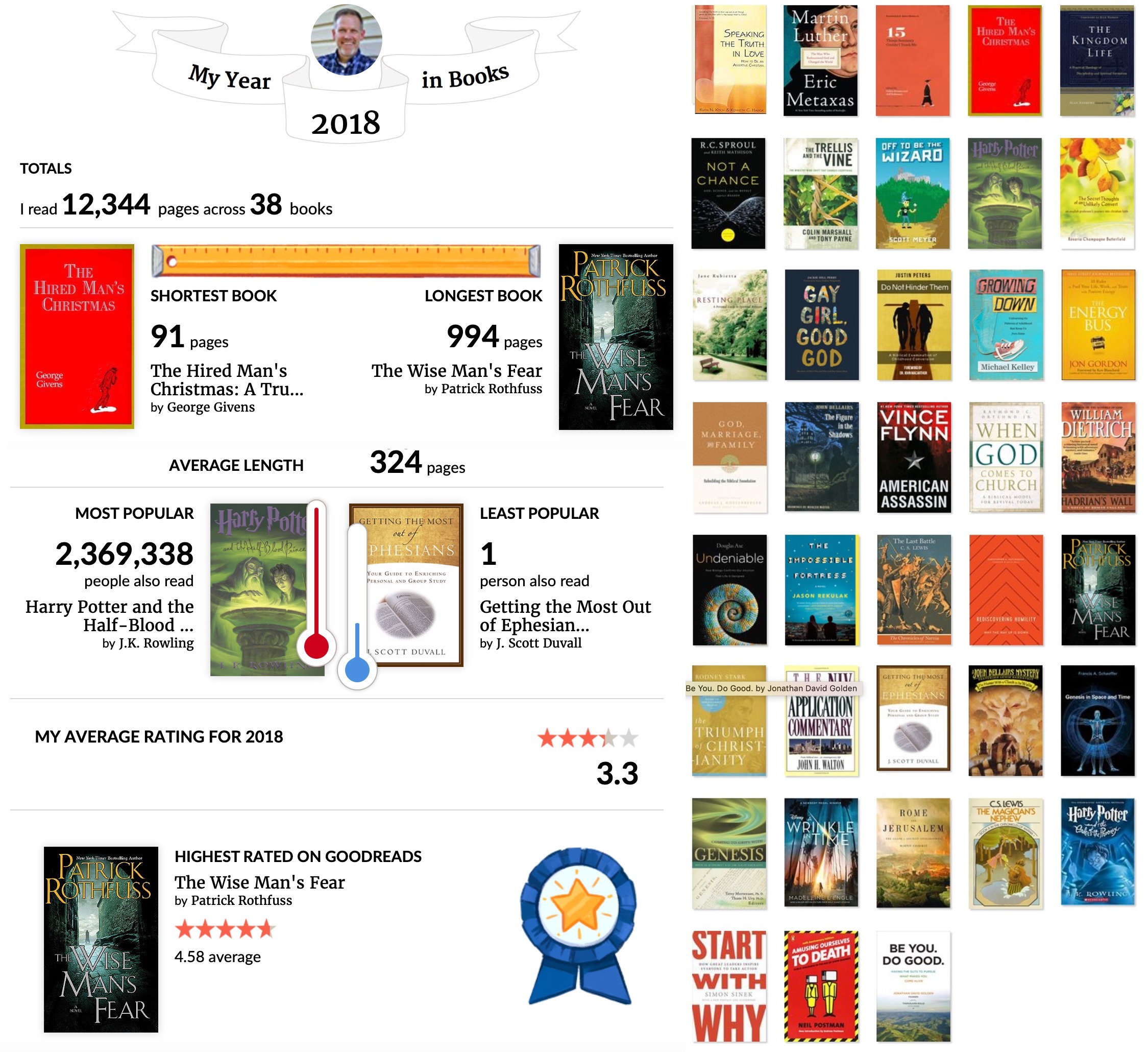 When you get set up on Goodreads,  add me as a friend.
Now, on to my top books of 2018:
Amusing Ourselves to Death by Neil Postman
Hands down the best book I read this year! I was shocked by that and didn't expect it to win me over the way it did. When I set it down, I was grieved that I completed it. I wanted more. Though wordy in places, Postman's analysis of our culture way back in 1986 is spot on and has significant implications for anyone in thought leadership.
Gay Girl, Good God by Jackie Hill Perry
Highly recommended. I really appreciate her pointing out that the gospel is not to make gay people straight but first to lead us all to finding our identity in a love relationship with God through faith in Christ.
Off to Be a Wizard by Scott Meyer
I had this book recommended to me by a couple of friends, and when I finally got around to reading it, it truly delighted me. It's just a fun, wonderful read, in the vein of Ready, Player One.
The Trellis and the Vine by Colin Marshall & Tony Payne
It's subtitled "The Ministry Mindset that Changes Everything." That's ambitious but not far off. I've been thinking deeply about overhauling our church's discipleship ministry, and this book was an immense encouragement. (I'm not crazy!)
The Hired Man's Christmas by George Givens
This book was loaned to us by a coworker with the attraction that it was written by a Blacksburg local. It was joyfully touching. A wonderful, warm Christmas read and well worth giving as a gift.
When God Comes to Church by Ray Ortlund
That we do not talk much or pray for revival or manage our lives so that we are ready for it speaks to the sad reality that we may not believe in revival. But God is a God of life, and He *delights* to revive His church. I found myself underlining even the endnotes in this powerful book.
Honorable Mention
The Triumph of Christianity by Rodney Stark. Stark just can't quite come to the point of admitting God's role in the expansion of Christianity. His is a man-centered assessment of Christianity's growth. Even so, this is a thoroughly interesting and compelling book.
The Impossible Fortress by Jason Rekulak. I stumbled upon this book – the author's first – and was enchanted immediately with this coming-of-age story set in the 1980s.
Here are some series that I read:
Last year I stumbled on Patrick Rothfuss' The Name of the Wind, and this year I enjoyed following it up with his second book, The Wise Man's Fear. It was good though plodding and seemed to begin to stall out. I am eager to read the next installment
2 books in C.S. Lewis Chronicles of Narnia series: The Magician's Nephew and The Last Battle.
2 books in John Bellairs' Lewis Barnavelt series. I watched the movie The House with a Clock in its Walls and wanted to read it, and then I also read The Figure in the Shadows. These magical tales about kids are easy reads are are reminiscent of Harry Potter.
I read Vince Flynn's entry book in the Mitch Rapp series An American Assassin and enjoyed it. I don't know if I'll follow it up with further books.
I re-read Rowling's Harry Potter The Order of the Phoenix and The Half-Blood Prince and found myself getting choked up all over again.
I re-read A Wrinkle in Time by Madeline L'Engle and found myself disappointed in the book (loved it years ago) but not as much as I hated the new movie. I won't follow it up with her other installments.
Books I Stopped Reading:
I rarely give up on a book. Sometimes I'll finish out of sheer internal obligation. But this one…
Rome and Jerusalem by Martin Goodman. I've been working on this book off and on for four years. It is ponderously boring. History and analysis should not be this unattractive. But that's not what made be put it down and give it up after reading over 200 pages. I kept getting a gut feeling about his unequivocal assertions, and finally after more reading, just couldn't square his reasoning and misunderstandings of Jewish biblical culture.
Comparison
What about you?!
Which books of these have you read?
Which books were your favorites in 2018?
Which book on the list above are you more likely to read due to interest or recommendation?
On this day...
Latest posts by Jeff Noble
(see all)