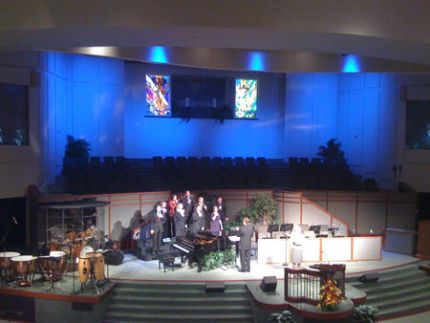 Tom Elliff, one of the VPs at the International Mission Board, is preaching this a.m. He's speaking on the role of the Holy Spirit from John 3.
Flesh gives birth to flesh, but the Spirit gives birth to spirit. You should not be surprised at my saying, 'You must be born again.' The wind blows wherever it pleases. You hear its sound, but you cannot tell where it comes from or where it is going. So it is with everyone born of the Spirit. (John 3.6-8)
Elliff expanded on this passage by sharing some thoughts about the Holy Spirit. Jesus said that the Holy Spirit was operative in the work of salvation and compared the work of the Spirit to wind. This is one of Jesus' first teachings about the third person of the Trinity. Elliff said that the wind/Spirit blows…
persistently – It never stops.
providentially – God controls the direction and force.
principally – The Spirit operates according to God's will and guidelines.
"What has scared us away from this subject is we see so much that is inane and stupid – this glitzy, glamor boy Christianity – that people of integrity avoid it." Elliff goes on to urge us to know, relate with and be directed by the Spirit. 
Nicoemus said in verse 9, "How can these things be?" Jesus was a little perturbed, it seems, that one of Israel's religious leaders didn't have a clue about spiritual rebirth and the work of God's Spirit. Elliff acknowledged that much about the Holy Spirit is mysterious.
Speaking of the mystery of the Holy Spirit, Elliff said –
It removes pride. No one knows how the Spirit works, nor can we command Him. Elliff urged us not to dispense with doctrine (right teaching) about the Holy Spirit saying that doctrine is to life what the skeleton is to the body. It gives structure. He commented that he'd seen numerous "exciting" movements that were supposedly the work of the Spirit but in the end faded away because there was no substance or truth to them. He said that "spiritual" people can many times become prideful, thinking they have a lock on the Holy Spirit and His expression but that God will not be controlled by man.
It removes presumption. We think that when we're ready, the Spirit will move. Or that when we do x, the Spirit will move. Not the case! How dare we presume that God must show up when we give Him permission. Of the current ebb in the Southern Baptist Convention, Elliff warned of the attitude that when we "fix" things that God will show back up. That's a dangerous presumption. He said it's like a turtle on his back on a hot highway. We may not be able to right ourselves when we want to.
It removes procrastination. If we don't know where and when the wind blows, then when God speaks, we better obey then! Scripture says, "Seek Him WHILE He may be found" and "TODAY if you hear His voice, do not harden your heart." The people of Israel who were to be led into the promised land chose at first not to go in. When God sentenced them to wander in the wilderness, they had a change of heart and tried to enter the land but were resoundingly defeated. We must respond when God speaks and on His terms. Elliff said,"People grow old when their regrets exceed their vision – regardless of their age. Regrets are sown in the garden of procrastination."
He concluded his message by quoting the theme of the 2008 state convention, "If you're going to succeed at 'Reaching Gen X now,' don't forget to rely upon the Holy Spirit.
In spite of the plethora of Ps – which normally distracts me when a speaker relies upon forced alliteration – I really enjoyed this message and am hoping to get a CD of it.
On this day...
Latest posts by Jeff Noble
(see all)