When what to my wandering eyes should appear
But an urn of coffee with a man of great cheer.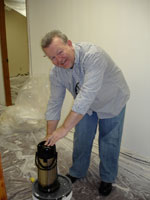 There's really no describing how good that styro cup of hot java was last week. I asked Jim what he'd done to make it so special today, and he simply replied, "Nothing special. Coffee is always great when you're craving it." Too true.
The new Journey center was full of workers one afternoon last week. I believe I was in the conference room, painting away, when I heard a familiar voice. It was an out-of-place voice. You remember the initial shock you felt the first time you saw your grade school teacher at the grocery store? The thought pause where you wondered what in the world your teacher was doing at Kroger's, of all places? Such was my mental arrest upon realizing that Jim, of Dad's Place fame, was walking the visqueened halls of the Journey center.
"Hey man, want a cup of coffee?" was all he said. I only imagined the twinkle in his eye and the reindeer on the roof.
I showed him around the building-in-progress, and he made the appropriate oooo's and aaaah's. Then he was off into the mid-day light. No "Merry Christmas to all and to all a good night," but there were a few of us left sipping great coffee with grateful taste buds and warm hearts.
Thanks, Jim. Special deliveries like that are not only a welcome surprise but a dear treat.
On this day...
Latest posts by Jeff Noble
(see all)