Who could forget a group of musicians "banding" together to fight hunger when it includes the extremes of Kenny Rogers and Lionel Richie? The year was 1985. My junior year in high school. The music video played relentlessly on TV as it advertised tape and record sales, the proceeds of which went to USA for Africa. Images of malnutritioned children haunted us all as we ponied up and bought cassette tapes and even an 8-track or two. I can still sing the chorus:

We are the world, we are the children
We are the ones who make a brighter day
so let's start giving
There's a choice we're making
We're saving our own lives
It's true we'll make a better day
Just you and me
It wasn't too long after the campaign had lost its edge that I discovered on my locker one day the infamous poster. Though I can't remember its color, it was blocked letters, drawn I think by Nick Proctor, and it radiated its message into the hallway between periods. "USA for Jeff – please give." Ha ha. Very funny, I thought, and tore it down.
You see, the significance of the sign was that I weighed about 120 lbs. my junior year in high school but was about six feet tall. Skin and bones. I put a board down over the drain in my shower so that I wouldn't slip through. It was in my freshman year in college that I literally gained about 40 pounds.
I thought the "campaign" would be over after eliminating the one sign. Imagine my chagrin when I discovered the journalism crew actually thought it was funny. Funny enough to hijack the mimeograph machine. Signs began to pop up all over. It had snowballed.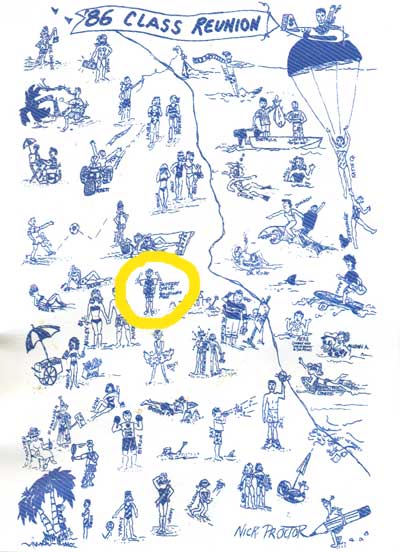 Before too long, the aforementioned Mr. Proctor, who was and I imagine still is, a great artist had produced a caricature of our entire class. It hink it was for our senior trip to Florida. I've posted it here as well; I'm in the yellow, wearing a shirt that says, of course, "USA for Jeff." Posterity stinks.
I had forgotten that my high school classmates had also gleefully goaded me about my middle name being Gayle. If you look back in any of the yearbooks, my name is listed as "Jeffrey Gayle Noble" in every club shot and candid caption. I quickly coined the slogo, "Jeffrey Gayle, the Ultimate Male," and still use it today. It has seemed relatively effective and interchangeable for self-promotion and self-esteem needs.
One tip for current students: Don't befriend the journalism department if you have anything about yourself you don't want folks to know.
There have been some complaints about the size of my senior mug shot.
Some have said that it should be bigger. What they fail to realize is that is actually a life-size representation of what I looked like in high school. That's why the USA for Jeff campaign started. By the way, if you'd like to donate to the campaign, or just to the blog, click here:
As far as today's album shot? Here ya' go!
On this day...
Latest posts by Jeff Noble
(see all)