As the story of the tragedy at Virginia Tech continues to unfold, it is another sobering societal call to quietness. I am profoundly aware of the "calm after the storm" on the major news media today. It is akin to other moments of stillness and unsettling silence that have followed disasters like 9/11, the Challenger explosion, the Oklahoma City bombing, Columbine, etc.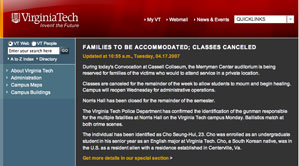 It's in these moments of solidarity that the eternal whispers for us all. The shock of unforeseen interruption rips aside comfortable (and often wrong) worldviews that have no place for otherness. It deposits a society firmly in the realm of the uncontrollable. In spite of all our sophistication, our MySpace-connectedness, and our "enlightened" state, another day of evil successfully dawns.
Perhaps that's what is the most surreal element of the world's reaction. It's not just senseless violence and death. It's the very real presence of evil. When people live in complete denial of spiritual realities, their explosive presence undermines peace-time opinions.
I guess what I mean is simply this… most folks find it easy to deny the existence of God, love, evil, and sin when life is peachy. However, when our unreality is smacked by a 2×4 of an ever-present spirituality, our peace-time worldviews can't hold up. Thus the stillness, quietness, and shock…
Unfortunately, as the past has shown all too vividly, our society's ability to insulate itself follows rapidly upon the heels of tragedy. The unity of post 9/11 was replaced with political posturing. Unfortunately for the students and families of Virginia Tech, their encounter with evil will soon be overshadowed by the triviality of others as well. Perhaps the American media will be able to follow this story by one more of Anna Nicole…
How to Connect…
For some wonderful resources of what is taking place to help and pray for the people of VT, check out this post over at MMI.
Another VT connection is a little remote, but present nonetheless. The Baptist Collegiate Ministry director at VT is Darrell Cook. Darrell served at UAM as the BSU Director there from 1992-1995 before going to ASU for a few years as the Assistant Director and on to VT from there. I emailed Darrell our support and prayers yesterday. Please be in prayer for him and the ministry of the BCM there in these days.
Pondering…
On this day...
Latest posts by Jeff Noble
(see all)