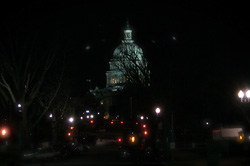 We arrived in D.C. yesterday afternoon and took a cab to our hotel. It's right across the street from the Library of Congress. Very cool. One thing we were awed by is just the sheer scope of the mall area of Washington's power center. At one end of the mall is the Jefferson Memorial, and the Capitol is at the other end. Fronting the mall on the north and south are massive, majestic buildings that house the National Museum of Art, Air and Space Museum, the Smithsonian, and well, you name it. When we walked by the J. Edgar Hoover Building (FBI HQ) this afternoon, I officially pronounced myself in awe.
We went to Union Station last night to catch a train to Baltimore for the UAM reception, only to discover that it had just left. How dare they not hold it for us?! So we opted for a dinner in Union Station which contains 30 shops or more and several restaurants. We walked back to the hotel in bitterly freezing winds.
This a.m. we got up and went to worship with the congregration of Capitol Hill Baptist Church, which is where Mark Dever is pastor. We enjoyed our worship there, though it was a pendulum swing on the high church scale from where Journey is. Dever is an awesome expository preacher. More on that in a blog entry to come. You might check out his 9marks site when you get a chance. That's how I first heard of him.
Afterwards, we went to the Air and Space Museum, where we got to see a real Lunar Module, the actual plane the Wright brothers flew for 59 seconds to begin aeronautical history and more. We walked across the mall to the north and entered the National Archives. I could have spent all day there, but we specifically went to see the original U.S. Constitution and Bill of Rights. The Declaration of Independence was not being shown today as its case was being fixed. We did get to see one of the four copies of the Magna Charta too.
From there, we froze our way over to Ford's Theater to see where Lincoln was shot and then we were able to go across the street to the Peterson's house, where he eventually died.
I feel like a walking history book this evening, one that has been left in the fridge for a month. (Have I mentioned it's cold here?)
On this day...
Latest posts by Jeff Noble
(see all)