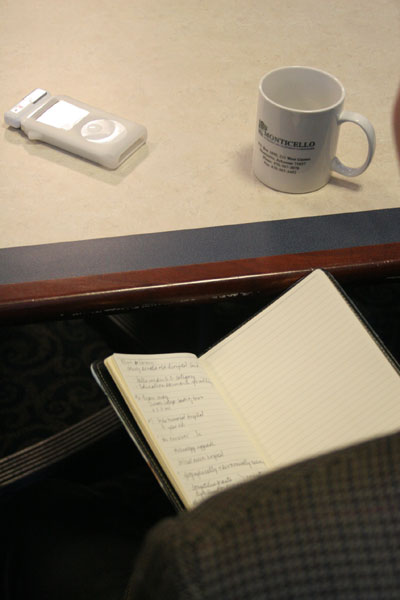 It's one thing to tour the capital of the U.S. and marvel at its immensity, its inherent power and feel struck by your own smallness and lack of contribution to the course of history. It's another thing to immerse yourself in the process of democracy, if only for a few hours, like our group from Monticello did today and walk away from it apathetic. First off, you can't. Secondly, our meetings today and the interaction of our group with our Washington representatives has made me question my own role as a leader and contributor to change.
Our group met with all four or our Representatives from Arkansas today and one Senator, Blanche Lincoln. We will eat with our other Senator, Mark Pryor, tonight. I found the whole process energizing and challenging. Here are citizen legislators, some of whom I disagree with policy-wise, but nevertheless working to represent us. Before anyone complains about politics or religion or the marriage amendment or who votes prolife or prochoice, I think there's a bigger question.
The New Testament writer, Paul, urges us…
"first of all, that requests, prayers, intercession and thanksgiving be made for everyone— for kings and all those in authority, that we may live peaceful and quiet lives in all godliness and holiness. This is good, and pleases God our Savior, who wants all men to be saved and to come to a knowledge of the truth." (2 Timothy 2.1-4)
There are so many political couch pototoes that I know. I can speak with some authority on the subject since I've wallowed a pretty good warm spot on the third cushion from the left for myself. I've waxed eloquent on too may occasions with mindless drivel of "what should be done" or why "they" are idiots. I'm sure I'll slip up again. However, let it be said here that my momentum is towards the front door and away from the couch. I'll no longer offer up pontifications of the sweet bye and bye. Rather, I fully intend to embrace the gifts and offers that God provides to nurture relationships, to influence others, and to get as involved as I can without extending myself into arenas in which belong stronger gladiators.
I ask for your prayer and help. I ask for your forward momentum as well. You don't belong on the couch anymore than I do.
Nobody should seek his own good, but the good of others.
As a Christian leader, I lived under the illusion for too long that doing good unto others was meant to be expressed within the confines of other Christians. The last 10 years of my life has radically changed that perspective. This trip to Washington has solidified many heretofore silently held assumptions as well.
You can't stand in the shadow of a Lincoln and leave the future to others.

You can't study the piousness and humility of Washington and consider yourself unable to effect change.
And you can't read a blog such as this and continue in your ignorance and selfishness. What will you do in your generation to contribute to the lives of others? What are your dreams for freedom? Who will you follow?
For those of you who don't want to think about such things and just want to look at pictures…
On this day...
Latest posts by Jeff Noble
(see all)