Tonight at 6:00, a ton of dads, grandfathers, stepdads, uncles and friends of Monticello Intermediate School students filled their cafeteria to laugh, learn and commit to the second year of an incredible program. I've had the privilege and blessing its first two years of serving as the "Top Dog" of our illustrious Dog Team.
The Watch DOGS program is a grassroots movement begun by dads in Northwest Arkansas about ten years ago, and it offers fathers and father figures an incredible day of involvement in their child's life. From early morning dropoff to the final bell ring in the afternoon, a dad will get to patrol hallways, eat lunch with his child, sit in 3-4 classrooms (being available for the teachers), and play on the playground with a mass of kids who think they are a hero.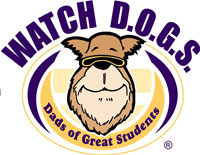 Hero for a day. And it's free. 
I claimed the first day of the Watch DOGS (Dads of Great Students) year tomorrow, and I'm looking forward to the excited faces of the kids, the incredible devotion of Monticello teachers and the adoring gaze of my daughter. 
Even tonight, as I was simply calling out door prizes and being the MC of the Pizza Night kickoff, I caught Adelyn beaming at me from the front row, her pizza in hand. It was a sublime moment for this superhero. Being a dad of great students isn't "ruff." Here's hoping my bark is in shape for tomorrow!
On this day...
Latest posts by Jeff Noble
(see all)