Phillip left a comment recently that said, 
I know I don't comment much, but I'll make you a deal. If you post more, then I'll comment more. Do you know how broken-hearted I am when I am ready for a break so I get online to read a brilliant piece of literature by journeyguy and instead the same post that has been there for days is looking at me?! It's your fault! You got us addicted! You can't just post twice a week after all those posts day after day. Journeyguy, journeyguy, wherefore art thou post? At least recommend another blog to fill the void.
It's so nice to feel loved… I may be having a Sally Fields moment. On the other hand, I have been less prolific here at Notes recently, with no real writing spree in site. It's probably appropriate to catch you up with what I'm up to.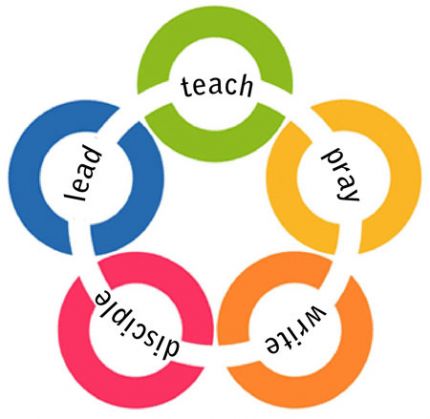 Around the first of the year, I wrote about some resolutions that I wanted to focus on this year. While I rarely make resolutions that are stickable, this year they were. I began the year knowing that in order to be the husband, father, leader, pastor, businessman, friend that I'm called to be, it was time to quit playing. I wrote then that I wanted to lead, teach, pray, write, and disciple.
Surprising even myself, that's what I'm been zoning in on all year, like a bee on a clover. Over five years ago, I was distinctly moved by the Lord to become a church planter and start Journey Church. At the beginning of this year, it was as if He said, "I mean it." I have been bivocational the past five years, and I have a high entrepreneurial streak in me, but I knew that what He meant was to lay down some dreams and visions that I was clinging to and invest completely in leading His people.
So I've been trying – imperfectly to be sure – to do that. I've been trying to make my schedule more and more purposeful, as well as my relationships and influence. What God is doing in and through His people at our church is simply amazing, and the growth we've experienced (and are experiencing) is a significant challenge. So whether the finances are there or not, I know I've been called to focus on leading Journey.
To respond fully to this call, I've recently notified most of my active design clients that I'll continue to service them, but that I am no longer taking new work. That was probably one of the hardest decisions to make. Mainly because my family likes to eat. However, it was also a sweet release. So Noble Design is in process of phasing out. I, of course, will still be doing things design-related in support of Carolyn's work, but after several late-night conversations over the past year with her, we both see that the time has come to transition.
We knew that we'd eventually be here, but we expected it would have happened sooner. I've heard stories of church planters being able to start their plant with full support and scratch my head in jealous amazement. That's not been the case here. Yet what God has taught my family in dependence, joy, character, and perspective far outweighs the comfort of full support. We are truly blessed. We are truly content and more frequently astounded by Christ's all-sufficient provision, protection and peace.
As I turned loose of design and began to pick up the pen (or tap on the keyboard), I've begun working on a book I started several years ago called Jesus and Wal-Mart: The Art of 24/7 Christian Living. I've got 2-3 more chapters to complete and then comes the decision of whether to self-publish or find a publisher. I've also started writing for a website called AppleiPhoneApps.com which I really enjoy doing because it forces me to say a lot in a small space. (It also allows me to be a Mac geek and get paid a little for it.)
I've started a group called JILT – Journey Intensive Leader Training – in which I'm trying to help train, disciple and equip the guys involved for ministry. I've been really excited about that. I'm also enjoying the opportunity to meet one-on-one with several different guys for the purpose of spiritual encouragement and discipleship.
Our leadership group at Journey has been meeting every Monday or Tuesday a.m. since the beginning of May to evaluate the previous Sunday and plan ahead. It's been extremely beneficial for us all, and I'm excited about the future as we further develop leaders for our church, community and mission. It forces me as a leader to be thinking ahead, praying, studying, and networking so that I can be full and prepared to encourage, release and guide the ministry of our church into new waters.
I still stink at prayer (not that I don't stink in the other areas… it's just the odor is more recognizable in this area). I love it when I engage in it. Don't get me wrong – I pray daily, regularly and often hourly. However, I'm talking about focused, extended times of intercessory and impassioned prayer. It is the primary way, I believe, that we can lift up and undergird the work of Christ in our world. I've been blessed with several people in our church and elsewhere with whom spontaneity is acceptable. I can call at any given moment in a day – early or late – and say, "Hey, you wanna get together for prayer?" and they'll show up with as much eagerness as my own. That's a true blessing.
As I step outside and gaze at the big picture, I see that the Lord has brought great growth to our church numerically this year. It's humbling. Deeply. The greater view, however, is the evident growth in people. We all can look around and see life transformation, maturity, and love blooming before our eyes in each other. It is all because of Christ's promise and His intent that now, "through the church, the manifold wisdom of God should be made known to the rulers and authorities in the heavenly realms." (Ephesians 3.10)
I'm grateful that my parents had a role to play in my love of reading, for as life is so often chaotic, a book is where I often turn to quiet and still my mind – whether it's for devotional purposes, leadership, entertainment or information. I treat many of the leadership and "church" books I read as if I've been given the opportunity to have an appointment with their author. I underline, jot notes and reflections, and chew on them a long time after putting them aside. Reading is the one discipline that enables a leader to get out of his own head and into the heads of others with regularity. It helps provide wisdom and balance. You can always check my reading activities here.
So in response to Phillip's comment, and I really appreciate it (because if nothing else, I've outed a lurker), I'm not giving up blogging, it's just that the last few weeks have been especially crazy. As Gov. Arnold can say so much better than me, "I'll be back."
On this day...
Latest posts by Jeff Noble
(see all)