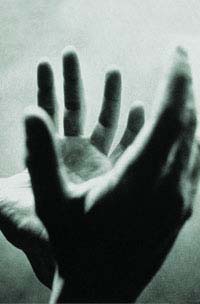 First of all, if you're reading this and have never considered who Jesus Christ is, you may not grasp what you're going to read here. It may seem strange or otherworldly. In fact, much of what you will read below is a testament and tribute to our very real experience of Jesus' presence and peace. That may come off as strange, and well, whacked. However, I would encourage you to continue reading because in spite of our current bout with breast cancer (and possibly lymphoma on top of that), we are rediscovering that Jesus is the only Way, only Truth and only Life. A love relationship with Father God through Him has been more than an opiate for us. It has been our refuge. It has also launched us from turtle living to purposeful living.
So… if you are a skeptic or simply haven't honestly considered Jesus' words and identity as revealed in the New Testament… and you're still reading… away we go:
We went for Carolyn's consultation yesterday with the breast oncologist. It was a cold, dreary day, and before we had left, it began sleeting in West Little Rock. We were the only ones in the waiting room. The strange thing is that we spent more time talking about life callings, hopes, and ministry yesterday before the appointment than we did about cancer. It wasn't simply denial. It was that the cancer was minimized compared to our other searchings.
Dr. Hagans then explained in depth to us all of our options. Because Carolyn received such high doses of radiation back in 1992 with her first bout with Hodgkin's, we learned that radiation was not an option for her. It would be toxic to her system in the amount that she would have to receive for this treatment.
It was strange to hear him say that if she was a normal breast cancer patient with the tumor she had, that it would be a rather simple treatment of tumor removal and radiation treatment that would result in a cure in 95% of patients. However, Carolyn is not a normal cancer patient, this being the fourth time we've battled the disease and its effects.
So our options basically involve a mastectomy which he termed "breast removal" in case we didn't get the gravity of the surgery. He also plans on taking some lymph nodes around the armpit to test them for incidence of breast cancer to determine if it has spread in the lymph system. Included options with the mastectomy are "reconstruction." There are several options there, but essentially it means building a boob, to put it bluntly.
Our other option is "breast salvage." It involves removing tissue around the area of the first tumor just to make sure that any invasive cancer "shoots" from that tumor are removed as well. There would be a 40% of more tumors appearing in that breast, he said.
Of course, the reality is that since the breast cancer is radiation-induced from her treatments back in 1992, the other breast could just as easily produce tumors as well. We will need to be extremely vigilant for the rest of her life – and we have been anyway since she's had Hodgkin's three different times. She receives CT scans and PET scans regularly each year.
That's the facts. That's what we know. We ask for your continued intercession for wisdom and faith as we make treatment decisions from this point.
Even as we face these decisions, we sense that God is present and up to something so much more in our lives than just our bout with cancer. Carolyn's fight with cancer, with my strong support, is not the only place "where we're at." It doesn't consume us completely. Rather, "where we are" is in the loving hands of Jesus Christ. 
We've had so many phone calls, Facebook messages, emails, Tweets, texts, letters, and visits with the people of God – literally around the world – that we are at rest. Truthfully, I wish that you, the reader, could experience for one week the prayer focus, support, and love from the followers of Christ during their finest hours as we have. Yes, I know that there are more times when the church stumbles than when it shines. But right now, through His grace, His people are bearing us up.
Yes, this time is exceedingly hard and difficult. I understand when people remark, "I just don't see how one family can bear all this." We don't either. But we are. And it's not us. It's Him. And His people. 
Yesterday as we drove home, avoiding several wrecks on I-630 as the sub-freezing temps coated bridges with cold treachery, we were listening to Christmas music via my DLO Transdock Micro, Casting Crowns song "Christmas Offering." We sang our hearts out, together in worship. The chorus says…
We bring an offering of worship to our King
No one on earth deserves the praises that we sing.
Jesus, may You receive the honor that You're due.
Oh Lord, I bring an offering to You.
And that's where we are. Even if the only offering we have to bring is our tears right now, we will spill them before Him freely. We know He values those as precious as gold (which we don't have to give).
You have kept count of my tossings; put my tears in your bottle. Are they not in your book? (Psalm 56.8, ESV) (All of Psalm 56 is precious to us right now.)
Where are you? If, as someone who has not fallen in love with this person we know as Jesus Christ, you wonder about why, how, and where we are, I'd love to hear from you. Perhaps I can introduce you to Him.
Also in Our Cancer Saga
Carolyn was first diagnosed with Hodgkin's Disease in 1991. Since then, it's been a wild, crazy cancer saga.
Where we are
On this day...
Latest posts by Jeff Noble
(see all)