Douglas Baker served as special assistant to former Arkansas Governor Mike Huckabee (now a presidential candidate), as associate pastor of First Baptist, Alexandria, VA, and as the founding editor-in-chief of The Kairos Journal.
Baker has written an article that was originally posted on Baptist Press but was subsequently removed from their site. The only obvious reason for its removal is that it perturbed the powers that be in the Southern Baptist Convention.
What are they so alarmed about?
Baker talks about the SBC's annual meeting schedule this month for San Antonio and talks about what to expect. Consider this quote from the article:
Some predict the inevitable loss of the denomination. If history is a guide, they are correct. The effects of the Fall seldom enable people—even Christians—to work well together for very long. Pride rears its ugly head and personal agendas quickly choke the life out of good efforts and sanctified innovation.Yet this could be the Southern Baptist Convention's finest hour if, by God's grace, people of God will rise to remember the heritage of the Southern Baptist Convention.
Christianity Today has picked up the article which you can read in its entirety here.
He also notes in the article that where once Southern Baptists used to be concerned about theology and the authority of God's Word, they have moved on to other concerns, (which are actually tired-old, repeated concerns) like "the issues of Calvinism, private prayer languages, alcoholic beverages, and the integrity of denominational statistics."
I grew up as a Southern Baptist and served on SBC church staffs for many moons before working with the Arkansas Baptist State Convention for eight years as a collegiate minister at a four-year college here in Arkansas. I believe I can speak with quite a bit of confidence when I say that Baker is hitting close to home.
Too many SBC churches no longer care about what is solid, biblical teaching and theology and have embraced a slippery slope of pragmatism in desperate efforts to attract people to their churches. Others are not as concerned with church growth as they are with perpetuating a past that is rooted not in scripture but in 19th and early 20th century religious tradition.
They have a beautiful missions tool called the "Cooperative Program," to which nearly every SBC church contributes a percentage of their tithes and offerings. It's a monumental sum ($501 million last year!) that the SBC then uses first in the state in which it was received for missions, for ministry to the poor, hungry and imprisoned, and for hundreds of other ministry needs and causes and then passes on to the national convention for mission work there ($183 million last year).
Here's what the SBC site says about how the CP works:
During the annual meeting of your state convention, messengers from your church and other churches across the state decide what percentage of CP Missions gifts contributed by local congregations stays in your state to support local missions and ministries. The percentage to be forwarded to the SBC for North American and international missions and ministries is also determined at this time.

At the SBC Annual Meeting, messengers from across the country decide how the gifts received from the states will be distributed among SBC entities. These gifts are used by Southern Baptist entities to send and support missionaries, train pastors, missionaries, and other ministry leaders; provide relief for retired ministers and widows; and address social, moral, and ethical concerns relating to our faith and families.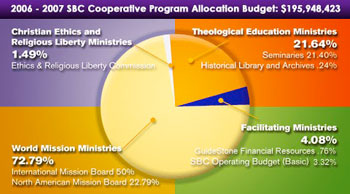 It really is a beautiful thing. Southern Baptist missionaries are some of the most well-supported, well-trained and committed workers in missions today.
However, the term "Cooperative Program" is a little deceiving… mainly because Southern Baptists, on the whole, are not very cooperative with other denominations, or even other Southern Baptist churches in the same city, at least in the South. My experience (and other's as well) shows that most SBC churches are so consumed with growing their own church and little kingdom that they cannot look above their tall hedges to see their neighboring SBC church across the street.
In our own community, I can't think of one SBC church that has been intentionally started with a new vision in the past 75 years. Every existing SBC church begun in the past 75 years has been the result of a church fight or disagreement.
What does that say to a community without Christ? If Baptists/Christians can't get along, then what do they have to offer a person who does not believe in Christ who already struggles with strife, tension and stress outside of the church? In other words, problems are already plethora, why add to them by joining a contentious church?
I dearly hope that leaders in SBC churches, both on staff and otherwise, will rise up and seek humility, joy, unity, and common vision again. Southern Baptists have been leaders in evangelism, missions, and leadership in years past, and while it's not important who is the leader, it's just vital that Southern Baptists get back behind the plow.
In February 1836, a small number of Texas revolutionaries held out for 13 days against a vastly superior armed force led by Mexican General Santa Anna. It was a heroic standoff, but the defeat of the Texans aroused wider sympathies as calls to "Remember the Alamo" motivated the Texas drive for independence.
As SBC leaders and church representatives meet in San Antonio this year, they had better pay attention. Their denomination is under siege, but it's from within. An inattention to biblical doctrine, poor theology about the church, and widespread apathy about denominationalism threaten to defeat an amazing array of linked churches.
If members of SBC churches and a new generation of leaders don't wake up and come to the rescue, the lesson of this once mission-minded group of Christians may only serve as an inspiration for others. Let's hope we don't find ourselves asking, Remember the Southern Baptists?
On this day...
Latest posts by Jeff Noble
(see all)